WELCOME TO
Golden Community GardenWhat does community gardening mean to you? New and experienced gardeners from all backgrounds bonding over a curious love of plants and passionate gardener spirits, creating a connected balance with our health, our soil, our lives.

Join the garden if you would like to grow food (or flowers) as part of a community. You will get a large or small plot, drip irrigation, soil amendments, and friendship!

The garden is also a healthy, green space where all of Golden's residents and visitors can enjoy nature's beauty and engage in meaningful conversation.
---
CALENDARS
---
People often ask me what one thing I would recommend to restore relationship between land and people. My answer is almost always, "Plant a garden." It's good for the health of the earth and it's good for the health of people. A garden is a nursery for nurturing connection, the soil for the cultivation of practical reverence. Something essential happens in a vegetable garden. It's a place where if you can't say "I love you" out loud, you can say it in seeds. And the land will reciprocate, in beans.

From Braiding Sweetgrass
by Robin Wall Kimmerer
---
GENERAL RESOURCES
---
---
GARDEN SPECIFIC RESOURCES
---
---
FAQ
Frequently Asked Questions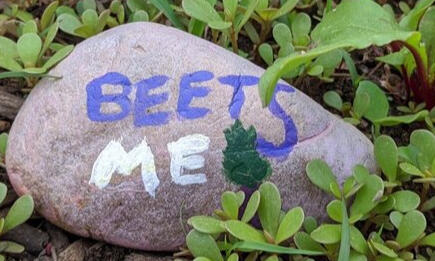 [Do you accept compostable donations?
Sorry, no.
(While we love composting, we cannot accept outside items to compost.)

How do I notify the irrigation team, for help?
Send an email to the garden's gmail address with the word IRRIGATION in the subject line.

Can I take compost from the garden?
Sorry, no.
(The Golden Community Garden pays for our compost from plot fees and donations, and is for gardening within garden bounds only.)

Who owns and maintains the beehives located in the western portion of the garden?
The beehives are owned and maintained by a small handful of garden members.

Who can apply for a plot at the Golden Community Garden?
Any resident of Golden is welcome to apply!

What are the plot sizes and fees for 2023?
A small plot is roughly 100 sq ft and is $75 for the year, including overwintering.
A large plot is roughly 200 sq ft and is $125 for the year, including overwintering.

Can I grow in my plot year-round?
Yes! Gardeners are encouraged to grow goodness in their plots year-round. Overwintering garlic is an excellent way to build up some great soil and have a head-start on the season with bigger bulbs than spring planted garlic. You are also welcome to use row cover within your plot or plant a cover crop.

What are your gardening practices?
We are strictly an organic garden. no GMO seeds, no synthetic fertilizers, pesticides or herbicides are permitted within our garden.
---
1506 8th Street
Golden, CO 80401
---